A motivating leader and community volunteer, Kathy Davis is driven by her desire to help people grow.
Kathy is an Area Manager for Goodwill Retail Operations where she oversees the Brown Deer and Milwaukee-Palmer Street retail locations in the Greater Milwaukee area.
Kathy is passionate about developing people to their fullest potential. She adapts her leadership skills to support the full spectrum of talent from part-time or entry level staff to strategic support for senior management.
"Seeing the individuals I have worked with over the years grow as professionals drives me to lead and motivates me to keep supporting the success of future leaders," said Kathy. "In turn, those leaders will also make an impact by developing additional future leaders."
Kathy shared a recent experience supporting the partnership between Goodwill and the Boys and Girls Clubs of Greater Milwaukee. Several interns were hired to work at various Goodwill Store & Donation Centers; in many cases, it was their first job. Student interns gained invaluable work experience and life lessons that demonstrates the power of work.
Kathy is also making a difference in our community by helping to create Acts of Goodwill - the organization's employee volunteer program focused on reducing barriers to work. Kathy and her regional team packaged food for Feeding America to help address hunger in the community.
To celebrate Black History Month, Kathy shared one of her favorite quotes by Ola Joseph, "Diversity is not about how we differ. Diversity is about embracing one another's uniqueness."
---
February marks Black History Month, honoring the triumphs and struggles of prominent African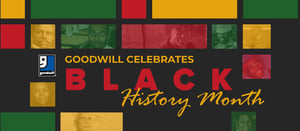 Americans who have made significant contributions to America and the rest of the world. To celebrate Black History Month, Goodwill is celebrating local African American leaders who are essential to our success.
Click this link to read more stories.