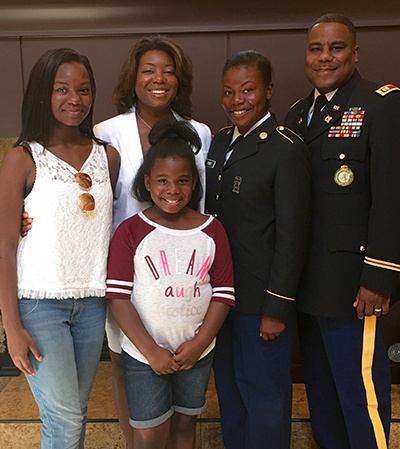 While some reserve Military Family Appreciation for the month of November, it is truly a way of life for Goodwill Vice President of Community Relations, Angela Adams, and her family. Angela is married to Major Ronald J. Adams – a 30-year military veteran.
During their 20 years of marriage, Angela has volunteered for various Military Family initiatives as Ron progressed through the ranks in the Wisconsin Army National Guard where he direct commissioned after 19 years as an enlisted Soldier and Non-commissioned Officer. Angela's volunteer service was recognized by The Adjutant General in 2014 with a Wisconsin National Guard Partnership Award for her efforts to successfully lead a Family Readiness Group of nearly 300 Service Members and their families during Ron's command of the storied 1158th Transportation Company.
Ron and Angela passed along the importance of serving others to their children who all have funny stories to tell about family resilience training and youth boot camp experiences. Their son, JhaVonte, went on to serve in the Texas National Guard while attending Prairie View A&M where he has since graduated. Ahriyan, their oldest daughter, is a junior at Florida A&M University where she is also a member of the Florida National Guard. You will also find Amira and Anaya, their younger daughters, volunteering throughout Milwaukee in service to their community.
As the third generation of Adams leaders build their family legacy of service to others, Ron is slowly transitioning to civilian life and a second career at Northwestern Mutual. Ron's father, Willie Adams, represents the first generation having served in World War II. Angela stated, "I am proud to serve as an Army Wife, an Army Mom and as a leader for an organization like Goodwill that serves veterans and military families like mine."
---

November is Military Family Appreciation Month and we asked you to submit stories about your experience with the military. Thank you to all that shared their stories and for the brave contributions and sacrifices that were made during the time that was served!