Finding the right employment in today's complex job market can be overwhelming. For cancer-survivor Donald, that also meant navigating the search for employment with the inability to speak. His journey led him to Goodwill TalentBridge, where they became mentors in his pursuit for work.
Donald's life was on the right track. He had a good job in manufacturing, was hard working and was independent. His vocal and thyroid cancer diagnosis changed everything. He beat cancer but lost his speech during the battle. He knew he would have to rebuild his life with this new disability.

Although his job search felt like an uphill struggle, Donald knew he had a lot to give and was capable of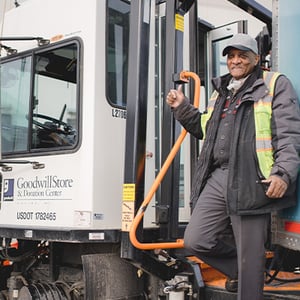 so much. A job board in the local unemployment office helped Donald find Goodwill TalentBridge, an extension of Goodwill that provides staffing, direct placement and recruitment solutions to area companies and job seekers. The experts at Goodwill TalentBridge assured Donald that his disability would not be an issue in finding employment, and they followed through on that promise.

An opportunity became available within Goodwill's Retail Operations Center, and Donald was the right fit for the job. From his first day, Goodwill's management team ensured Donald's success, developing a "click system" over the radio to allow Donald to confirm when he received messages and assist him in responding to requests. Donald solidified his position within the Goodwill family almost immediately – exuding kindness, optimism and dependability. It wasn't long before Donald transitioned from a TalentBridge employee, to a full-time Yard Attendant with Goodwill, shuttling and staging trailers used in Goodwill's transportation fleet.

Donald's drive to succeed is evident, as he never allows his inability to speak to get in the way of performing his duties. Donald is grateful for his Goodwill team that he says looked past his disability and treats him like family. "I have a purpose, and I'm not just needed, but wanted," says Donald.